About the Inn
About the Inn
About the Inn contains historic information about the Reynolds Mansion, now a luxury bed and breakfast in Bellefonte. It was placed on the National Historic Register in 1977. It was built in 1885 by Major William Frederick Reynolds, a wealthy businessman, landowner, and banker. The home, designed by renowned architect C.S.Wetzel, is of the late Victorian period featuring an eclectic blend of Gothic, Italianate, and Queen Anne styles. The stone for the exterior was quarried by the Hummelstown Brownstone Company in Hummelstown, PA. Due to its purple or blue cast, it is referred to as blue brownstone. The Carriage House, situated at the back of the property, was built in 1893. This building was also once used as a chapel.
The Andriaccios believe that while choosing to stay in the Bellefonte/State College area, the Reynolds Mansion truly stands out in a town full of outstanding properties. On first sight, the majestic appearance of the Mansion inspires guests to explore the inside. Entering through the lavish marble foyer complete with infinity mirrors and an original gas lamp, guests discover the period-specific grand common areas including the living room, billiard room, dining room, and Snuggery (a room where gentlemen retired to enjoy brandy and cigars). Interior details of the Mansion include classic mirrors, handcrafted woodwork, stained glass windows, detailed molding, and inlaid parquet floors of which no two are the same. The woodwork of the Mansion is a very interesting part of the construction. The paneled ceiling in the main hall is a rich walnut, as well as the staircase which is hand-carved and adorned with a brass lamp on the newel post. The dining room, however, features American chestnut wood, which is warm, inviting, and light. Perhaps most interesting is the use of pressed plaster, stained to look like wood, used in some of the rooms as molding. Another unique feature is the functioning enunciator located in the kitchen. This original fixture was used to alert servants where their help was needed. The mansion boasts 13 fireplaces, adorned with original ornate tiles that were handcrafted by the International Tile Co., Brooklyn, NY.
About the Owners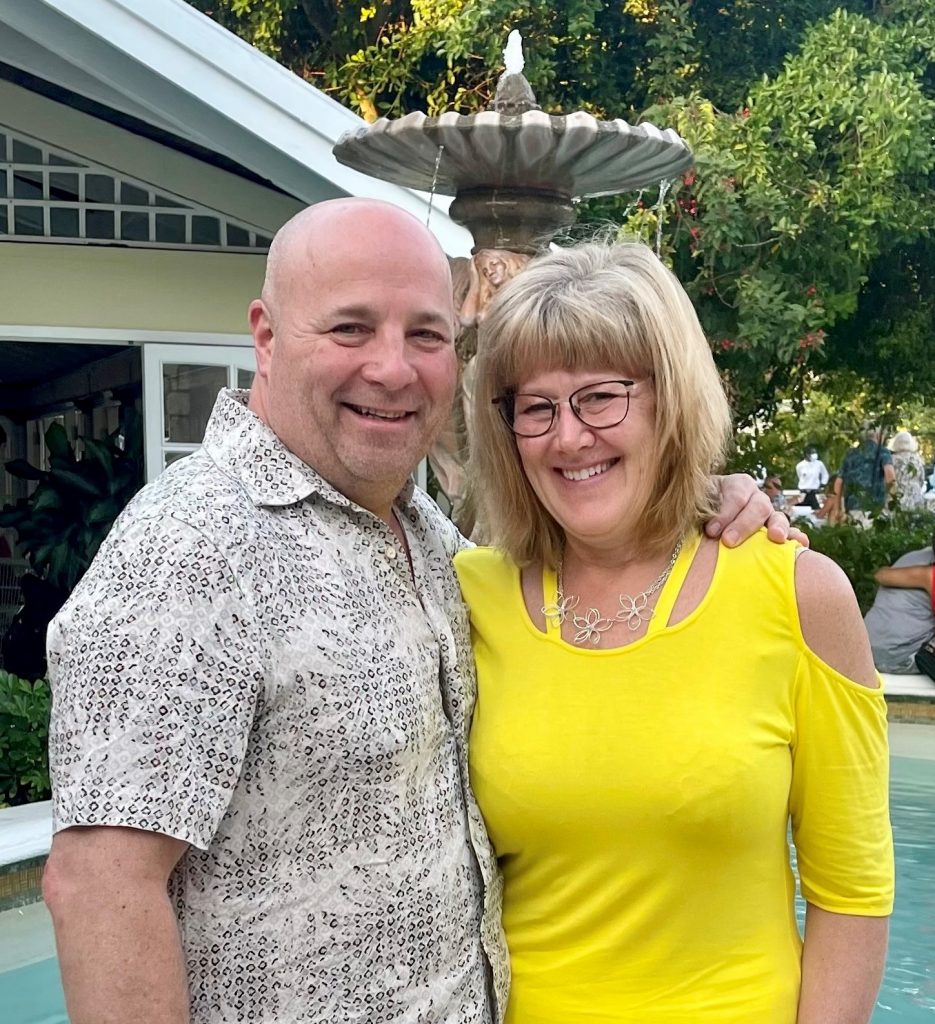 Tricia has 15 years in public education as a high school choral director and at least that many teaching private piano lessons. She has played the piano for more than twenty high school musical productions as well as several professional theater companies. As the innkeeper at the Reynolds Mansion, you may hear her play classical music in the afternoons. Tricia also loves to host music events such as chamber music recitals.
Mike is a retired police officer. Having spent his 22-year career in both New York City and Nassau County on Long Island, he was ready for the laid-back atmosphere of Central Pennsylvania. After he retired, he started a handyman/construction business that was more successful than he anticipated and kept him working more than when he was as a police officer. Mike has always been a great cook and enjoys the challenge of cooking for twenty hungry football fans in his role of innkeeper. Tricia and Mike were selected as "Innkeepers of the Year 2012" by the PA Tourism & Lodging Association
Food, Friends, and Family
Mike and Tricia have always loved entertaining and have hosted large parties with complex menus, heated tents, and live music. The menus selected have been based on themes, such as an all-Italian Easter Dinner for a party of 20. Dishes that have delighted guests include asparagus frittata, grilled eggplant with sweet peppers, sweet pea risotto, and veal scallops with prosciutto and sage. Mike and Tricia were also involved in a wine-tasting group back on Long Island, which met on a rotating basis between members' homes. They now host wine and cheese pairings and beer and food pairings at the Reynolds Mansion Bed and Breakfast.
The Innkeepers' daughter, Carly, received her Master of Music degree from SUNY Stony Brook. She also received a performance certificate from Penn State University. She is married, bought a house, and has a full-time job at Penn State University. Also in residence at the Mansion are the Andriaccios' two dogs, Tony and Nia, who love to sneak out into the dining room to visit with guests after breakfast.
3D Video Tour of the Mansion
Experience an Unforgettable Getaway in Bellefonte, PA
We look forward to hosting your next getaway. Contact us with any questions about planning your trip or click below to find your perfect accommodation!