Activities & Attractions in Central PA
There are many attractions and activities here in Central PA. There are also dozens of museums, historic sites, and guided tours. Whether you prefer a round of golf on a beautiful Penn State course or learning about our country's past at the military museum, Central PA has everything you can imagine to make your stay unforgettable. We hope that you enjoy our comprehensive list below and if you still can't find what you're looking for, please don't hesitate to contact us for our favorite things to do in the area.
Attractions in Bellefonte That You Shouldn't Miss
American Philatelic Society
The American Philatelic Center is the home of the American Philatelic Society and American Philatelic Research Library. The Center is located in a restored nineteenth-century Match Factory Complex on the National Historic Register — consisting of a series of interconnected buildings, the oldest of which was built in 1899. Visitors are welcome to tour the historic Center and see the valuable services we offer first hand. The Match Factory complex is less than one mile from the Reynolds Mansion in Bellefonte, PA.
Centre County Library & Historical Museum
Genealogical and historical reference library. The Pennsylvania Room is a specialized genealogical and historical reference library that is part of the Centre County Library & Historical Museum. The facility is free to use and open to the public. It is located in the historic Miles-Humes House in Bellefonte, PA.  If you are coming from out of town, call or email in advance to confirm the hours of operation as they change for special events. (814)355-1516 ext. 214 and visit the website at centrecountylibrary.org.
Bellefonte Art Museum for Centre County
The Bellefonte Art Museum celebrates the human spirit through the arts and recognizes the importance of art in our lives by exhibiting and selling art by local artists from our Artist Registry; providing creative enrichment for individuals, families, and children; and exhibiting artistic and cultural shows from outside the area. The Bellefonte Art Museum for Centre County, a "Let's Move!" museum, is proud to be featured on the Institute of Museum and Library Services. Hours are 12:00 - 4:30pm Friday through Sunday.
Talleyrand Park
This beautiful park is within walking distance of the mansion.  It features a suspension bridge, gazebo, historic railroad, and many other interesting sights.  There is also a bust of Lincoln, an edible landscape garden, and plenty of ducks and fish.  Talleyrand Park can be booked for weddings and also hosts a summer series music program which occurs on Sunday evenings throughout the summer.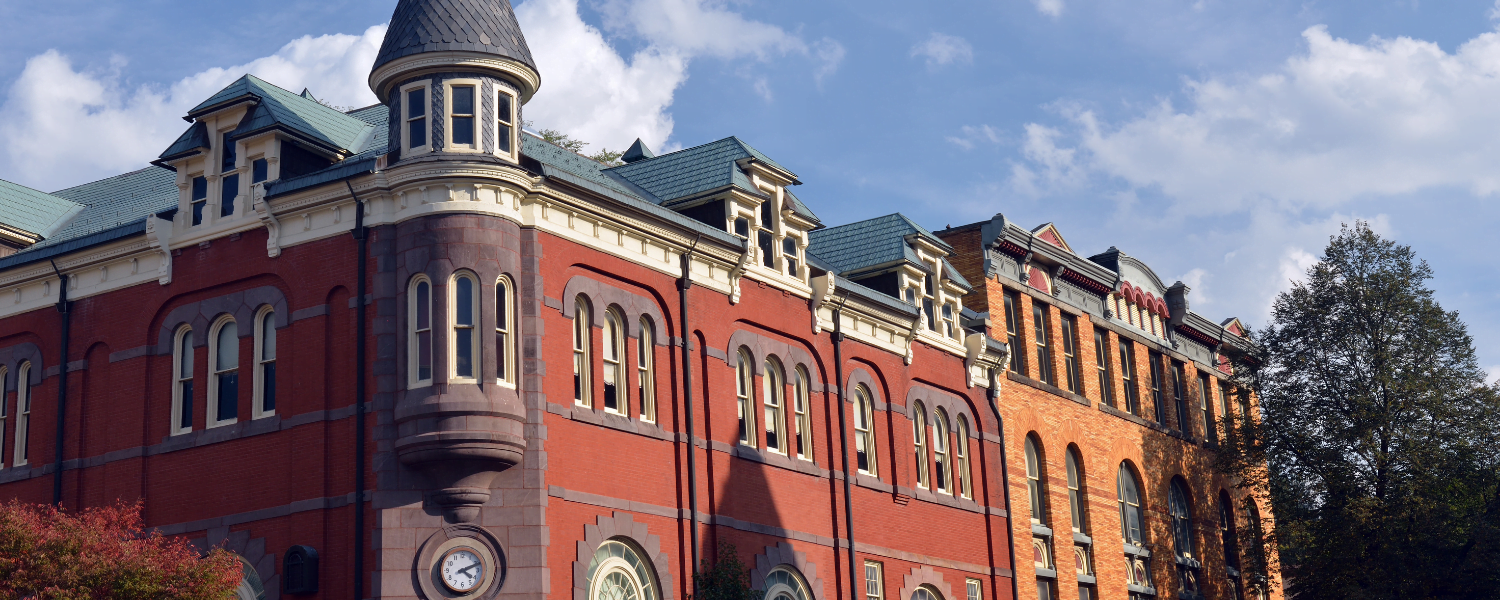 Attractions Nearby in "Happy Valley"
We are always here to answer questions about things to do in the area.  Another great resource is the Happy Valley Adventure Bureau.
Penns Cave
America's only all-water cavern and wildlife park is nestled in Central Pennsylvania's scenic Penn State Country. It is the only cave in PA that is on the National Register of Historic Places. The cave's temperature is always 52 degrees so bring a light sweater or jacket.  Also, comfortable walking shoes are highly recommended. The cavern tour lasts approximately 45 minutes and the farm and wildlife tour is a guided 90-minute motorized tour over 1,500 acres of Penns Cave forests and fields. You can also enjoy a burger at the Cave Café or bring a picnic lunch.
The Arboretum at Penn State
Beautiful gardens and groves. Free admission. Truly a highlight in early May when thousands of tulips are in bloom for PSU Commencement. Also available for private events and rentals. The Arboretum at Penn State is situated on 370 acres.
Tussey Mountain
More than just a ski area! Tubing is a local favorite pastime. Tussey Mountain has go-carts, mini golf, a driving range, an amphitheater, and par 3 golf in the summer months.  You can also try dozens of delicious chicken wings during WingFest which occurs once a week beginning in July. WingFest has been voted "Best Place to See Live Music" in State College for the last three years.
Hot Air Balloon Rides
Discover a new State College and Happy Valley from the air in a beautiful hot air balloon. Drift through the skies, float over meadows, and brush treetops on a memorable flight. The Sky's the Limit fly year-round, twice a day, at sunrise and 2-3 hours before sunset, wind- and weather-permitting. Flights last approximately one hour but may vary depending on the availability of landing sites. The entire adventure is about 3-4 hours in duration and may cover a distance of 2 to 15 miles, depending on wind speed and direction. On your flight, you may fly at altitudes varying from crop and treetop level to several thousand feet where you can view the scenic expanse of State College, Happy Valley and beyond. After the flight, the new aeronauts are presented with a flight certificate while the pilot shares the history of ballooning. Everyone joins in a champagne (or sparkling cider) toast to commemorate the flight. There's no better way to start or end your day!
Penn State Golf Courses
The Penn State Golf Courses features two championship courses. Rates starting at $33 for the general public. Open 7 days per week.
Tofttrees Golf Course
The Toftrees Golf Course is a challenging 18-hole course and was named one of PA's "Best places to play". $40 includes cart.