It's not called Happy Valley for no reason! Since we're just 9 miles away from Penn State, we have local insight on the best things to do in Happy Valley before and after the Penn State Blue-White Game in April.
Check out all the other fun activities at Penn State throughout the year so you can come back for more!
Things to Do in Happy Valley Before the Penn State Blue-White Game in April
1. Join the Family Fun Zone
Arrive at the Bryce Jordan Center before the Blue and White game to experience the Family Fun Zone! There will be various activities, including live entertainment, contests, giveaways, and more! This event is free and open to the public.
2. Make a Pit Stop at the Fan Festival for an Autograph
There is also a Fan Festival along Curtin Road on the Penn State campus. You'll find food vendors, games, sponsor booths, and activities. The team bus will arrive here, and there will be a player autograph session starting at 12:15 PM.
3. Stop at the Blue-White Apparel Sale
Penn State Athletics will be hosting a Blue-White Apparel Sale from 9 AM-2:30 PM on the day of the Blue-White Game. The sale will include clothing, equipment, and game-used apparel held at Pegula Ice Arena. Don't forget to stop by the Penn State All-Sports Museum from Noon-2 PM.
Hot Spots in Happy Valley After the Game
We've got you covered for fun things to do in Happy Valley after the Blue and White Game! The State College offers a wonderful selection of nightlife opportunities that range from a relaxed atmosphere for those looking to kick back to live music options open until 2 AM. Many of these options are just steps away from campus!
4. Stop at a Local Brewery
There are classic options that bridge multiple Penn State generations. Try our favorites, like the Tavern or Champ's or new options like Liberty Craft House or Local Whiskey.
5. Grab Dinner at One of Our Favorite Restaurants
If you want to combine a good dinner and a cocktail or two we suggest options such as Duffy's Tavern in Boalsburg, Gigi's Southern Table, The Field Burger & Tap, or Otto's Pub & Brewery. Then, venture back to Bellefonte for a really cool vibe at Big Spring Spirits.
Relax and Unwind After the Penn State Blue-White Game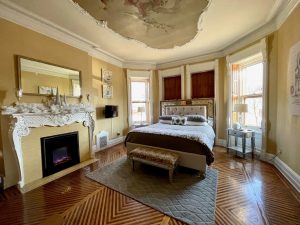 Back at the Reynolds Mansion Bed and Breakfast, relax and unwind in your immaculate guest room with a private en-suite bathroom. All of the well-appointed rooms in the mansion have large TVs, just in case the game gets rained out! There is also 24/7 coffee and tea available to all guests. We would be thrilled to have you check out all that the mansion has to offer.
We're only 9 miles from Beaver Stadium. Book your stay today, so you don't miss the big game!