Why not work in a luxurious guest room at a cozy B&B when you can work from anywhere? Take a break from your everyday routine – pack your laptop and spend a few days at our home away from home! The Reynolds Mansion Bed and Breakfast offers excellent amenities like free Wi-Fi, 24/7 coffee and tea, water bottles, and a gourmet breakfast. 
Take a break in an ensuite jetted tub after a long day of looking at a computer screen. Then wrap up in a super soft chamois bathrobe and relax in your spacious room. Each room has a charm and character all its own. Most of our returning guests choose a different room each time they visit!
Reynold's Mansion is close to all the best attractions! Don't miss out!
Experience the Best of Bellefonte, PA
Breakfast 
Before your day starts, take advantage of our culinary chef's three-course gourmet breakfast prepared in-house! You'll start with a freshly prepared homemade scone, fruit cup, or yummy fruit smoothie. For a second course, enjoy Eggs Benedict with savory Hollandaise Sauce, delicious Smoked Salmon Gougeres, tantalizing Croque Madame, or Avocado Smash, to name a few. 
Finish off breakfast with a freshly baked dessert prepared by Tricia! Our breakfast will give you the motivation to start your workday. While you're indulging, think about our Massage Therapy Packages. You'll want to get the most out of your work vacation so take time for yourself to be fully rested! 
Lunch
The wonderful thing about working from our B&B is that it's an easy 5-minute walk into town where you can pick up a quick bite to eat or stroll around our lovely Talleyrand Park for a lunch break. Several of our local restaurants offer outdoor dining, take-out, and delivery. Try the Governor's Pub, Happy Wraps, or State Burger for a great lunch. While you're here, don't miss out on the fun things to do in Bellefonte after a long or short workday! Check out our wineries and distilleries, 
Dinner
If you're looking for a great dinner, head to RE Farm Cafe at Windswept Farm, which has sweeping views of Central PA's lush mountains and farm-to-table delights. Or try one of our other favorites, Hublersburg Inn in Howard, PA, to enjoy spirited American cuisine. After dinner, come back and relax! Play pool in the Billiards Room or sip Brandy in the Snuggery, included in your stay. You can meet Tony and Nia, the resident dogs of the mansion who love to meet new people! So, grab your laptop and join us at the Reynolds Mansion and work from Central PA! We can't wait to host you! 
Stay in the Heart of Bellefonte, Close to It All, When You Work From Our B&B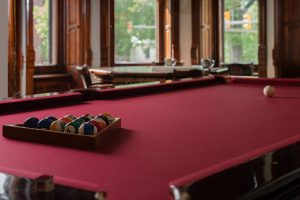 Working from the Reynolds Mansion is easy, private, and convenient! Check out our two new Carriage House Suites offer private parking, a living room area, and a cafe table with ample seating. You'll have your own mini-refrigerator and breakfast brought right to your door each morning. You won't believe the size of the jetted tubs, either! 
Browse our luxurious rooms so you can start planning your remote work vacay in Happy Valley!