Just a 10-minute drive from Renoyld's Mansion, Re Farm Cafe, is one of the truly unique experiences Bellefonte has to offer! Learn what Windswept Farm offers at Re Farm Cafe while you're in Bellefonte.
Enjoy an authentic farm-to-table experience with panoramic farmland views. Watch composers (chefs) diligently work in the central open kitchen, letting you watch them transform ingredients into a delicious meal! When you are done enjoying your meal, head into town and do a little shopping or head out to enjoy more of our outdoor paradise.
Why Re Farm Cafe Is so Special to Bellefonte
Re Farm Cafe is situated on Windswept Farm in State College, PA. The sweeping views of Central PA's lush mountains and blue skies capture visitors' hearts. Windswept Farm, an organic farm boasting vegetables and small animals, surrounds events with serenity and beauty.
Inside the cafe, stately hand-hewn beams reach up in support of the clerestory, bathing warming sunlight to everything below. Panoramic windows allow for unobstructed views of the surrounding farmland in subtle amuse. A back patio and deck beacons guests to mingle and commune, and surrounding fields boast a feast of fresh vegetables. Composers (chefs) display the bounty of goodness to be prepared and then magically transform into simple deliciousness.
Re Farm Cafe has been open for business since approximately June 2019. The owners are experienced restauranteurs who retired from their other restaurants located in downtown State College, PA.
Enjoy All of Bellefonte While You're in Central PA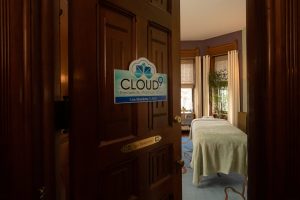 Lodging near State College takes you out of the crowds and into a charming Victorian town. Only nine miles from campus, the Reynolds Mansion is rich in history. While you are here, learn about William F. Reynolds, the mansion's original owner.
Tour the first floor with owners Mike and Tricia and see beautiful original woodwork and fireplaces. Play pool in the Billiards Room or sip Brandy in the Snuggery, both included in your stay and, where else can you meet Tony and Nia, the resident dogs of the mansion, they love meeting new people.
Book your stay at the Reynolds Mansion and make your experience in Bellefonte one to remember!