Annual Events
A trip to Bellefonte is a treat for travelers no matter when you happen to arrive. The following annual events are must-adds to your itinerary when your plans bring you this way year-round!
January
While the First Night event is technically one that kicks off each December, it's designed to ring in the New Year so visitors can definitely add it to their January calendar too! First Night is hosted at State College on December 31st each year and includes ice skating, a 5K run, concerts, opportunities to mix and mingle as well as ice sculptures to admire. It's just $10 a person to get in and you'll find there's plenty of reasons to linger until the clock strikes midnight.
June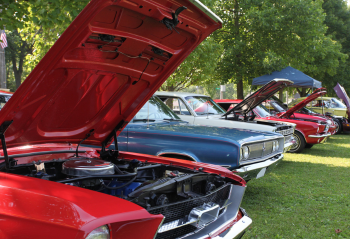 The annual Historic Bellefonte Cruise held Father's Day weekend is a delight for car enthusiasts and hobbyists alike. This event features a open cruise, sock hop, parade of cars, motorcycle poker run, and more!
July
If you find yourself in Bellefonte in July, you'll be just in time to enjoy the Central Pennsylvania Festival of the Arts. Hosted at Pennsylvania State University, this event is organized by returning alumni and is a volunteer-run event that includes amazing sidewalk sales, live musical performances, and food to top it all off.  This past July, Beaver Stadium opened up to movie nights and yoga classes to add to summer fun experiences. Hopefully, this will become an annual occurrence.
August
Take time to enjoy the annual Bellefonte Arts and Crafts Festival if you're in town in August. This is an early-August event hosted downtown where visitors can browse the work of talented artists and craftsmen. Kids will love the many activities and games on-site while everyone will appreciate the food selections that curb just about every craving possible.
October
Don't miss out on the Punkin' Chunkin event in October when travel plans bring you this way. Held at Bald Eagle State Park, guests are invited to watch as pumpkins are catapulted into the lake during this fall festival which raises money for the Howard Fire Department. The festival is also a wonderful chance to admire the surrounding fall foliage on the lake!
December
In December, your trip to Bellefonte can include the Bellefonte Victorian Christmas experience. Hosted the second weekend in December, this event brings holiday nostalgia to the forefront in style with activities ranging from storytelling with hot chocolate and concerts to costumed events on the agenda.
Book Your Stay Today
Elevate your Bellefonte stay when you book accommodations at Reynolds Mansion. Reach out to learn more about our luxurious and inviting options!