No matter your dad's age, we know that he will enjoy Father's Day in Bellefonte at the Reynolds Mansion Bed and Breakfast in Bellefonte, PA.
Make sure to treat him at one of our great breweries during your weekend stay!
Saturday: Step Back in Time at Bellefonte Cruise
Friday night, all historic cars, trucks, and motorcycles cruise around town, hence the name Bellefonte Cruise. Then, step back in time, dancing at the sock hop in the middle of town. The streets are packed with beautifully restored vehicles and brand-new and futuristic cars all-day Saturday. Enter for a chance to win a motorcycle, stay cool with Italian ice from a truck vendor, purchase a Bellefonte Cruise t-shirt, and enjoy walking in and out of our local shops.
Sunday: Cheers to Bellefonte Craft Beverage Expo
The fun continues into Sunday with the Annual Bellefonte Craft Beverage Expo in Talleyrand Park. If purchased in advance, tickets are $10 per person or $15 at the door. There are plenty of tasting vendors and food vendors. Robin Hood Brewing Company, Elk Creek Cafe, Otto's Pub, and Happy Valley Brewing will have their best craft beers available. Big Spring Spirits, five wineries, and two cideries will also participate. The cast of Beatlemania performs immediately following at 7:00 pm right in Talleyrand Park, free of charge.
Plan Your Father's Day Weekend in Bellefonte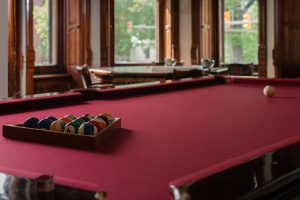 Our little town of Bellefonte does a great job providing these festivals, fairs, and events for our community and guests. We hope you can take advantage of this great opportunity on Father's Day weekend.
If you cannot get away in June, try to make it either for Arts Fest weekend in July or Bellefonte Arts and Crafts Fair in August. We do fill up for these weekends, so be sure to make your reservations in advance! Remember, our rooms are fully air-conditioned, we create amazing breakfasts, and of course, you'll get to pet our two dogs, Tony and Nia.
We look forward to seeing you at the Reynolds Mansion! Check availability!