Get ready for Penn State New Student Orientation! Your son or daughter has been accepted,, and now it's time to visit classrooms, campus, and State College.  It's time to make the transition into university life as easy as possible as their college career begins.
During the two-day experience, why not stay in a beautiful, historic mansion only 9 miles from the University Park Campus? While you're here, get out and explore the perks like our lovely wineries and distilleries you'll enjoy when visting your child at their new college!
Why You Should Explore Our Town During Penn State New Student Orientation
Bellefonte, PA, is a charming Victorian town located just 9-miles from Penn State University. Talleyrand Park, antique shops, restaurants, and many historical sites are within walking distance of the Reynolds Mansion Bed and Breakfast.
Stop by Big Spring Spirits, a local distillery, for a cocktail or Good Intent Cider for some hard cider. Bellefonte is also home to a lovely art museum and if you're into family ancestry, walk over to the Centre County Library's Historical Museum.  It's free and super informative.
Need to eat early? Food allergies? No problem! We can accommodate you. A delicious three-course breakfast is always included in your stay at the Reynolds Mansion. Please indicate any preferences when you make your reservation or shoot us an email with details that you'd like us to know about.  Typically, breakfast is served in our dining room at 9:00am but we are able to serve earlier when requested.
Book Your Stay With Us so You Can Enjoy Orientation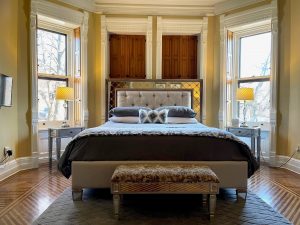 Each of our guest rooms has its own personality. Many of the rooms have king beds, fireplaces, and jetted tubs. All rooms have private en-suite bathrooms with showers. Our second-floor guest rooms have high ceilings, original wood shutters and floors, marble, and exquisite details. Originally servants' quarters, our third-floor rooms have interesting angled ceilings, gas fireplaces, cozy carpeting, and jetted tubs. Basically, we have something for everyone.
If your future Penn State new student would like to stay with you, we have rollaway beds that we can add to your reservation with an additional $30 fee per night.
Start planning your new student orientation stay. Book with us so you can experience the best of Bellefonte!