Looking for the best staycation in Pennsylvania? You'll feel right at home in The Reynolds Mansion. Our B&B offers the perfect combination of relaxation and romance with luxurious amenities set in the beautiful, historic town of Bellefonte, PA.
While you're here, check out our unique activities and attractions like world-class fly fishing in nearby Spring Creek, Penns Creek, Fishing Creek, or the Little Juniata River!
Where to Find an Easy Drive-to Destination for the Best Staycation in Pennsylvania
The Reynolds Mansion Bed and Breakfast is located in Centre County, PA, a short 2 1/2 hour drive from the Pittsburgh area and a 3 1/2 drive from the Philadelphia area, making it an easy to get to staycation destination! Directly located in the state's center and only 9 miles from Penn State University, travelers on I-80 will have a quick trip since it's only about 4 miles from the exit.
Since our B&B is within walking distance to Historic Downtown Bellefonte, you can enjoy the day browsing our local antique stores, shopping areas and then dine at one of our delicious restaurants or check out one of our wineries & distilleries! We also have plenty of outdoor excursions, so get out and enjoy our nature trails or golf courses while you're here!
Take time to enjoy puzzles, games, LEGO kits, and of course, our Billiards Room, where you can shoot pool on our 9-foot table. Other benefits include an in-house massage treatment room and access to private yoga sessions right in your room. We put you in touch with the massage therapist and the yoga instructor to set up an appointment!
Plan the Best Staycation in Pennsylvania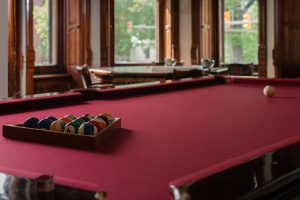 The Reynolds Mansion is a wonderful combination of 1885 architecture and modern amenities that guests love. A three-course gourmet breakfast is always included in your stay. You can rest assured that our eight-room establishment is more likely to be clean and sanitized than larger, more crowded lodging options.
Our guest rooms are furnished with either king or queen beds, most have fireplaces, some have two-person jetted tubs, and all have private en-suite bathrooms with walk-in showers. We offer free WiFi throughout the mansion. If you need a change of scenery from working from home, the Reynolds Mansion is the perfect, quiet setting for you!