Enjoy a day at Historic Penn's Cave in Centre Hall, PA, which is just a short 25-minute drive away.
Reynold's Mansion is close to all the best attractions! Don't miss out!
How to Enjoy Historic Penn's Cave in Centre Hall, PA
You can take a boat ride through the cave, eat lunch at their on-site café, travel by jeep on the cave rock mountain tour, and pan for gold at Prospector Pete's Sluice. Experience Penn's Cave 90-minute farm-nature-wildlife tour which takes you by bus through grazing pastures, mountain trails, and forests.  There are approximately 1,600 acres of preserved land and if you come at the right time, you'll see the sunflowers in bloom.
Penn's Cave is the only cave in Pennsylvania on the National Register of Historic Places.  It features magnificent stalactites and stalagmites often mimicking familiar shapes like the "Statue of Liberty".  You'll see the wonders of the cave while riding on a flat-bottom motorboat that holds 20-22 people.  There are 48 steps leading to the cave's main entrance, which is not handicapped accessible. Also, don't forget to bring a sweater or a light jacket as the cave's temperature is always 52 degrees.  Make sure to check rates and schedules before you go!
Learn about the legend of Penn's Cave and the Indian maiden "Nita-nee" from which our beloved Nittany Lions got their name.
Book Your Stay With Us to Experience the Best of Centre Hall, PA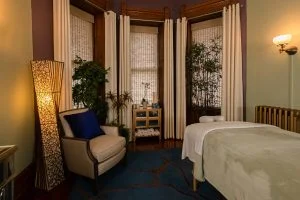 Since we're close to all the action, we guarantee the best stay! Book one of our luxurious rooms so you can rest and relax after a long day of exploration!
Find out why for yourself how cozy our B&B is! Book your stay today!