In need of a reset? Start planning a restful retreat to the Reynolds Mansion in Bellefonte, PA. Keep reading to learn how to have an exciting road trip from Philadelphia, PA, to Bellefonte!  
Once you're here, check out our lovely wineries and distilleries to get a better taste of the area!  
Weekend Itinerary in Bellefonte  
Day 1: Make the Trip From Philadelphia PA to Bellefonte 
Since Philadelphia is only a 3 ½ hour's drive from Bellefonte, a road trip is a perfect way to get here. Leave in the morning, stop for lunch in Harrisburg, and be in Bellefonte by mid-afternoon. Once you're here, feel free to take a little soak in the jetted tub or explore the nooks and crannies around the Inn. The first floor includes a Parlor, Billard's Room, and the Dining Room.   
Now that you've settled into your room, it's time to explore Bellefonte. Bellefonte, PA, is a charming Victorian town with plenty of ways to take in the beauty of the natural surroundings. Talleyrand Park, unique antique shops, and many historical sites are within walking distance of the Reynolds Mansion Bed and Breakfast. Bellefonte is also home to a lovely art museum and if you're into family ancestry, walk to the Centre County Library's Historical Museum. It's free and super informative.  
By now, you've worked up an appetite, stop by Big Spring Spirits, a local distillery, for a cocktail or Good Intent Cider for some hard cider, or visit one of our yummy restaurants like Creekside at the Gamble Mill or The Governor's Pub. Don't forget to end your night with a visit to the Snuggery, where you can enjoy a complimentary glass of brandy and chocolates!  
Day 2: Spend the Day Exploring In and Around Bellefonte 
Why not add a little adventure to your weekend here? Whether you're a beginner or an avid fisherman, there are plenty of great spots to fly fish in Pennsylvania! Our limestone streams offer some of the best fly fishing on the East coast. Plus, there's fly fishing available within walking distance of the mansion on Spring Creek and more than 57 miles of streams and creeks to explore within a 45-minute drive of Bellefonte, with wild brown trout galore!
There are so many ways to enjoy Bellefonte! If you're looking for a different exploration, you can visit Penn's Cave! Here, you can take a boat ride through the cave, eat lunch at their on-site café, travel by jeep on the cave rock mountain tour, and pan for gold at Prospector Pete's Sluice.   
Day 3: Spend the Morning Relaxing at Our Inn 
Wake up for our three-course breakfast downstairs in the dining room, which starts every morning at 9 am. Then, enjoy our Massage Therapy Package before you head home refreshed! Don't worry about a thing; we are happy to make your arrangements with our licensed therapist from Cloud9 Therapeutic Massage Studio. Choose from Swedish, Deep Tissue, Sports, Pregnancy, Neuromuscular, or Trigger Point therapy. There's no need to specify the type of massage when booking, so whatever kind of massage you need is available for you before you leave!  
Stay in the Heart of Bellefonte at the Reynolds Mansion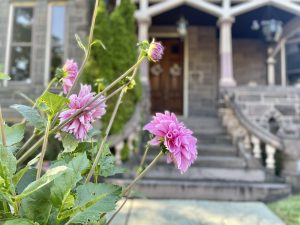 During your stay, explore our cozy accommodations at our Pennsylvania bed and breakfast, which has been named on the National Historic Register. Each of our guest rooms has its own personality. Many of the rooms have king beds, fireplaces, and jetted tubs. All rooms have private en-suite bathrooms with showers. Our second-floor guest rooms have high ceilings, original wood shutters and floors, marble, and exquisite details. Originally servants' quarters, our third-floor rooms have interesting angled ceilings, gas fireplaces, cozy carpeting, and jetted tubs.  
We have something for everyone. Whether you are planning a romantic weekend getaway or want to take in a sporting event at nearby Penn State Reynolds Mansion in Bellefonte, PA, is the perfect destination.   
Start planning your vacation and see what makes our Pennsylvania bed and breakfast so special!