Three reasons to tour the vineyards at Mt. Nittany Winery located in central Pennsylvania near the Reynolds Mansion Bed and Breakfast are the wine tastings, the breathtaking views, and the dedicated and knowledgeable staff.
Tour the Mount Nittany Vineyard & Winery in Central, PA
At Mount Nittany Vineyard & Winery, wine tasting is always free. You can also arrange for a tasting and tour for $7.95 per person, including a logo wine glass. Tour times are limited, so be sure to call ahead. The winery is approximately 15 miles from the Reynolds Mansion, and the free tastings occur every day except for Mondays. Saturday hours are from 10:00am – 5:00pm, Sundays from 12:00pm – 5:00pm, and Tuesdays through Thursdays from 11:00am – 5:00pm. There are so many varietals and just so little time! You can choose from a Chardonnay to their most popular red called Tailgate Red. Prices range from $13.99 per bottle to $21.99 per bottle. If you find a wine or two that you love, you can purchase a bottle to bring back and enjoy while sitting on the mansion's front porch.
Joe and Betty Carroll purchased their 65-acre property on the side of Mt. Nittany in 1983. In 1987, they started their six-acre vineyard and opened the winery in 1990. Today, they produce 16,000 gallons of wine per year and harvest 12-15 tons of grapes annually. Joe and Betty's daughter and son-in-law have now taken over owning and managing the operation and their grandson, Robbie, works in the vineyards. While you're there, speak to Scott Hilliker, their winemaker. He is so knowledgeable and takes the time to help you understand what goes into his award-winning wines. The location is ideal for growing grapes with its southern exposure and elevation. Plus, the charming chalet-style tasting room overlooks the vineyard, where you can see the six varieties of grapes being grown.
Additionally, Mt. Nittany Vineyard and Winery hosts numerous events and partners with other local organizations such as Great Tastes of Pennsylvania Wine & Food Festival. To get there from the Reynolds Mansion, take Route 144 up over the top of Mt. Nittany. Enjoy the panoramic views of the valley, including the Grange Fair Grounds, as you descend the south side of Mt. Nittany. There will be picturesque farmlands and streams to take in as well.
Explore More, Follow the Central PA Tasting Trail
Mt. Nittany Vineyard & Winery is part of the Central PA Tasting Trail. As a guest of the Reynolds Mansion, you can experience many different local wineries, distilleries, and breweries in a matter of minutes from our central location. Many trails are singularly focused on wine, beer, whiskey, etc., but ours offers a diverse offering to match any taste. The trail has also been a popular topic with travel writers visiting the area. Ask Tricia or Mike about purchasing a Tasting Trail Passport. They are $35 each and may be purchased at the mansion or at any of the locations on the trail. Check out the central PA tasting trail website for a complete list of the twelve craft beverage producers in our area. These locations also offer delicious food, such as Elk Creek Cafe, Barrel 21, and Otto's Pub & Brewery. Be sure to tell them that Tricia and Mike from the Reynolds Mansion sent you!
Stay Near the Vineyards at Mt. Nittany Winery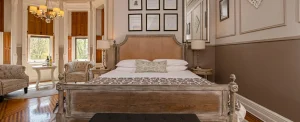 Whether you plan a romantic getaway or visit a student at Penn State University, Reynolds Mansion in Bellefonte offers exquisite luxury. Lodging near State College takes you out of the crowds and into a charming Victorian town. Accommodations at our bed and breakfast consist of five second-floor guest rooms, three third-floor guest rooms, and two luxury suites in the carriage house.
Book your stay with us today!