Experience one of the nation's best fireworks displays right here in State College, PA. Each year we put on a spectacular display that rivals New York City's fourth celebration. Central PA 4th Fest, as we all call it, isn't only about the fireworks.
VIP Access
If you want the VIP Fireworks Viewing experience, a special viewing area is reserved on the east side of Porter Road for VIP Viewing Pass holders. These rather large special designs are worth the cost of the VIP Viewing ticket by themselves. These set pieces are created to go off and remain lighted closer to ground level, creating a graphic sometimes moving image with fireworks. VIP passes start at $25 and can be purchased in advance. Check out the wide variety of delicious food from local vendors.
Freedom Bell Ringing and Parade
The start of the Independence Day Parade coincides with the ringing of bells. Across our country, community churches are being encouraged to ring their bells on July 4th to help remind people that this is a day to commemorate and remember the blessings we enjoy here in America. The  State College area churches were asked to ring their bells at 2:00 PM. We hope you join us in letting freedom ring this holiday! The parade will also begin at 2:00 PM. It starts in front of the State College Municipal Building and travels through downtown State College and across campus.
Free Food and Activities
Delicious free hot dogs will fill you up and our large cake cutting event is a sight to behold! 4thFest features a variety of shows every year. The creative works of the Appalachian Arts Studio Wood Carving, the high-energy Dialed Actions Sports BMX Bike show, and the Roller Derby Girls competition will provide quality entertainment throughout the day.
If you are the athletic type, you can participate in the Firecracker 4K or 4-mile races early in the morning. Prizes will be given out at the conclusion of both races for different age groups.  See the website for all of the details.
Why Reynolds Mansion in Bellefonte, PA for Central PA 4th Fest?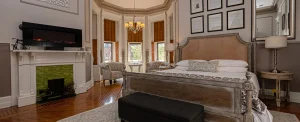 All of our guest rooms at the Reynolds Mansion are fully air-conditioned and equipped with private en-suite bathrooms. Some of the rooms, like the Woodlands Room, also have jetted tubs for two that you can relax in after a long day celebrating our independence at 4th Fest.  Each of our eight well-appointed guest rooms creates a unique experience. Choose from four king-sized bedrooms on the second floor or queen-sized bedrooms on the third floor.
You'll have access to all of our luxurious amenities, like complimentary Brandy and Hershey Kisses when you book this room. And, don't forget about that delicious gourmet breakfast the next morning. We'll prepare three courses that you're sure to love, or, if you have any dietary restrictions or allergies, we can accommodate that as well. Chef Mike does his best to provide breakfasts guests love.
We look forward to seeing you on this Fourth of July! Book now!