When you're looking for a destination to enjoy that's rich in history, offers up easy access to fun, and comes with the energy of a lively college town included, you'll find it waiting for you in State College, Pennsylvania. Those who make their way in this direction can always add impeccable dining experiences to their itinerary alongside cultural events, shopping, park hopping, and beyond. The area is also the perfect place to find yourself when you're looking to explore area wineries that are inviting, savory, and scenic. The following are a few you're going to want to be sure to try out the next time your travel plans bring you this way.

Happy Valley Vineyard and Winery
Sip the afternoon away in style when you choose to spend quality time at Happy Valley Vineyard and Winery alongside family and friends. Located at 576 S Foxpointe Drive in State College, Happy Valley Vineyard and Winery is no more than 17 miles from Reynolds Mansion and has built their reputation for excellence around the use of sustainable agricultural practices and energy-efficient products and resources in their winemaking. Expect a farm-to-bottle experience here where 90% of grapes used in production are grown right on-site. Happy Valley Vineyard and Winery creates crisp, clean flavors with an emphasis on dry reds and whites. The tasting room is open Tuesday through Saturday from 12:30 pm until 6:30 pm with adjusted hours on Sunday from 1:00 pm until 5:00 pm.
Seven Mountains Wine Cellars

Expect your senses to be invigorated at Seven Mountain Wine Cellars. Found at 324 Decker Valley Road in nearby Spring Mills, Seven Mountain Wine Cellar offers up a scenic setting to enjoy tastings, tours, and even campfire events from May through September. Their outstanding wine selection is the result of years of passionate dedication to the craft. They serve up both grape and other fruit variety wines daily in their tasting room between 11:00 am and 5:00 pm.
Mt. Nittany Vineyard and Winery
Taking time to sit back, relax, and relish the moment is simple to do when you head over to Mt. Nittany Vineyard and Winery at 300 T367-1 in Centre Hall. Mt. Nittany Vineyard and Winery first opened in 1990 and today, continues to be a fan favorite stop for its flavor and fantastic views. They're just 15 miles from Reynolds Mansion and are open Tuesday through Saturday from 11:00 am until 5:00 pm and Sundays from noon until 5:00 pm. Wine here can be enjoyed fireside in the tasting room or as a picnic experience complete with pond views. Vineyard and winery tours can be included in the experience with an appointment upon request.
Book Your Exceptional Getaway Today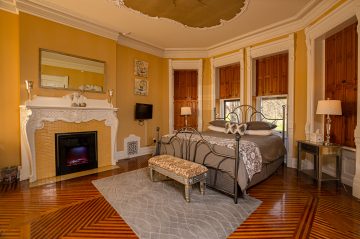 Enhance your journey to State College and Bellefonte, Pennsylvania through luxury, comfort, and impeccable style when you book a stay at Reynolds Mansion Bed & Breakfast. Privacy, well-appointed guest rooms, and elegant amenities come together here to create an unforgettable stay from start to finish. Wake up and enjoy our three-course gourmet breakfast before heading out to explore these amazing, local wineries.