If you're looking for outdoor adventure, look no further than Central Pennsylvania's State Parks and Forests! There is so much to explore in Central PA that you're sure to enjoy your stay!
Find out where you can grab a bite nearby after all that outdoor exploration!
Explore the Best of Central Pennsylvania's State Parks and Forests
Bald Eagle State Park
Mountain biking, hiking, cross-country skiing, and fishing are abundant outdoor activities found in our Central PA State Parks and Forests. Visit Bald Eagle State Park in Howard, PA, for wonderful boating or kayaking on Bald Eagle Lake. The 1,730-acre lake laps the flanks of Bald Eagle Mountain, surrounded by forests, fields, and wetlands. The diverse habitats here are excellent for wildlife watching, and occasionally you will spot a bald eagle. For others, snowmobile and ATV trails are exciting, and hunters and anglers will be heading to Bald Eagle Park for late-season hunting and ice fishing.
Black Moshannon State Park
Black Moshannon State Park covers 3,394 acres of forests and wetlands and conserves unique, natural environments. According to local tradition, American Indians called this watershed "Moss-Hanne," meaning "moose stream," thus the origin of the park's name. The "black" in the park name describes the tea-colored waters. The 250-acre Black Moshannon Lake is fed by clear springs and small streams which flow through the bogs that stretch in most directions from its shores. As the clear water flows through sphagnum moss and other wetland plants, it becomes colored by plant tannins. In a sense, the bog vegetation acts like a giant teabag to color the water. This park is definitely worth the drive if you love the outdoors. It is approximately 19 miles from the Reynolds Mansion, less than a thirty-minute drive.
Rothrock State Forest
A beautiful state forest, Rothrock, is located 28 miles south of Bellefonte, PA. Rothrock State Forest comprises 96,975 acres spread across the rugged ridges of Huntingdon, Mifflin, and Centre Counties. The Rothrock State Forest has become one of the premier mountain biking areas in the state. The Rothrock contains over 100 miles of trails open to mountain biking in addition to the 190 miles of roads. Trail riding ranges in difficulty from easy to extreme, from gently sloping forest and logging roads to rocky ridge-top trails and steep side-hill climbs. Several organized rides are held each year in the forest.
All of these parks and more can be found on the DCNR website. Select which outdoor activity you are interested in to find the right state park for your visit.
Book Your Stay Close to The Outdoor Adventure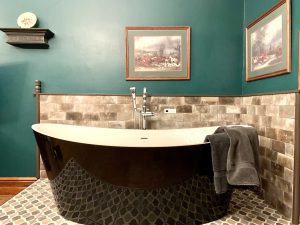 Are you ready to explore central PA? Renolyd's Mansion is the perfect stay for your next adventure! It's such a short drive away from all that central PA has to offer; it's the ultimate in convenience and luxury. We have everything you need to relax and unwind after a long day of exploration.