We've got the local insight on everything you need to know about golfing in Central PA. Whether you are an experienced golfer or simply learning how to play, Central Pennsylvania has a golf course for you!
Don't forget to check out our other local attractions and activities, like fly fishing! Why not try something new while you're here?
The Best Local Golf Courses in Central PA
Below you can find a shortlist of options. If you would like to see others, please visit the official guide.
Personalized service, great course conditions, and excellent amenities make the Penn State Golf Courses the place to be for a complete, professional golf experience. You can reserve your tee time online. Also, special discounts and individual lessons are available. Rates and detailed information can be found on the Penn State Golf Course website.
Measuring at just over 6,500 yards, Seven Springs' well-maintained par 71 golf course takes maximum advantage of its mountain vistas and the natural beauty of the Laurel Highlands. Colorful landscaping, lush fairways, and four-tee positions make play challenging for any golfer. From the highest point on the course, you can see seven counties and three states!
Nestled in the mountains right outside of State College, Pennsylvania, on the banks of the Bald Eagle Creek, Skytop Mountain Golf Club has become incredibly well conditioned and a visual and wildlife gem in the Centre County Region. Offering something for every golfer, Skytop retains the most playable tees as well as the most challenging. The course layout should be on any golfer's shortlist to play and frequent. Reserve tee time online.
The Club features a Championship 18 Hole Golf Course, a Professional Golf Shop, magnificent practice facilities, and the staff is trained in providing exceptional customer service.
One of Pennsylvania's top "Places to Play." Championship 18 hole course, book tee times online, see the course hole by hole. Rated 4 1/2 stars by GolfDigest.  Book tee time online. While you're there, don't miss dinner at The Field Restaurant. Farm-to-table dining great list of craft beer.
Par 3 golf, nine holes. The course is well maintained with quality greens providing a challenge to the best golfers and an easy course to play for beginners of all ages. Also fun – mini-golf!
Plan Your Golf Getaway When You Stay With Us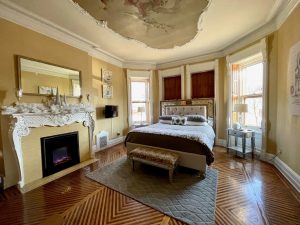 Book your stay at the Reynolds Mansion so that you can spend the day golfing in Central PA and relaxing in the evening in one of our luxurious, air-conditioned guestrooms. The lush green mountains provide the perfect backdrop as you watch your tee shot fly towards the green. The terrain makes for an exciting yet sometimes challenging round of golf, no matter the conditions.
Don't wait! You deserve your golf getaway! Check our availability!